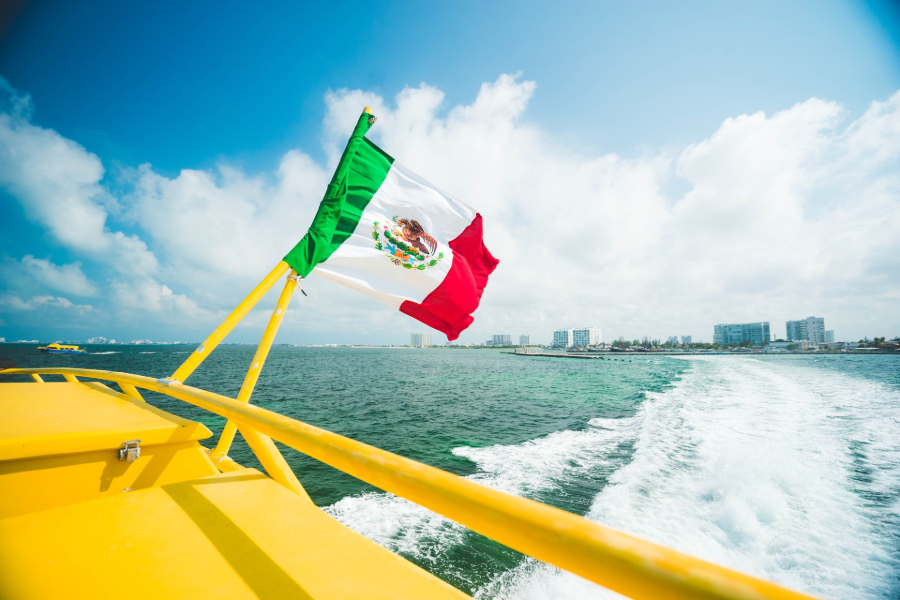 Cancun is the ultimate vacation beach town with a little bit of an American edge.
With beautiful white sandy beaches, swaying palm trees, and azure blue waters, it's the ideal place to relax and recharge.
Don't just stick to your hotel though – there's plenty of outdoor activities in Cancun.
This Caribbean coast city is home to a number of beautiful parks and nature reserves, perfect for a quick hike, a long stroll, or an activity-filled picnic.
Take a look at our list of the best things to do outdoors in Cancun and you're sure to have a memorable trip!
1. Xplor Park
Located in the Mayan Riviera, Xplor is the ultimate adventure park with fun-filled activities that'll keep you busy the entire day.
Try your hand at rappelling, riding an ATV or even swinging through the jungle like Tarzan on the zip-lines.
You can also go on a tour through the underground caves and snorkel in the underground river
You'll be able to see incredible Mayan ruins while you're there as well – it's one of the best spots for outdoor adventures in Cancun.
2. Snorkeling in Puerto Morelos
Puerto Morelos is a small fishing town about 30 minutes away from Cancun and boasts shallow, turquoise waters and pristine beaches.
Some of these include Playa Azul, Playa Langosta and the famous Coco Beach.
It's a great spot for snorkeling, especially if you're a beginner!
You can bring your fins and swim along the shore or take a snorkeling tour to see some of the best coral reefs in town.
The beaches are lined with palm trees, which provide shade for when you need to take a break from swimming or sunbathing on the beach.
You'll never get bored here with all there is to do!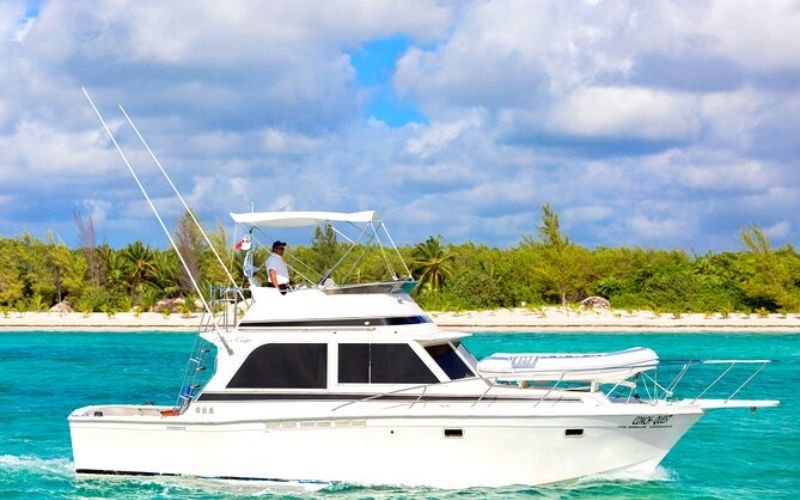 3. Go Deep-Sea Fishing in Cancun
For a true fisherman, there is no better place to be than the Caribbean Sea.
Cancun has become one of the most popular fishing spots in recent years as it hosts deep-sea adventures for those looking to catch tuna, sailfish and marlin.
The water is teeming with some of the biggest fish in the world and if you're an avid fisher, this will undoubtedly be your dream come true.
Don't miss out on this opportunity for a wild adventure out on the water!
4. Visit the Cancun Underwater Museum
The Cancun Underwater Museum is a unique project that brings life to a manmade reef by transforming statues into an artificial reef system.
This project was created in 2010 by Jason deCaires Taylor, a British sculptor who wanted to bring awareness to the need for conservation of the local marine environment.
Now more than 470 sculptures have been placed on the seafloor, including scenes from everyday life and figures from the Mayan culture.
Many people visit this area during their vacation because it is a great place to snorkel or scuba dive!
5. Stroll Through Mercado 28
Mercado 28 is a great place to go if you want to take in some local culture and enjoy some tasty treats.
This market is filled with food vendors, souvenirs and a whole lot more!
You'll get to see traditional Mexican cuisine prepared and cooked fresh right in front of your eyes.
It's a great way to get into the Mexican spirit as you experience their hospitality firsthand.
6. Spend the Day at Croco Cun Zoo
Croco Cun Zoo is a very interesting place to visit if you want to see some exotic animals up close and personal.
This interactive zoo stands out for being a safe place where you can connect with nature and its inhabitants without interfering or bothering them.
The guided tours are informative and a great way to reconnect with nature.
It's a lovely way for the whole family or even just animal lovers in general to spend an afternoon.
And if you're brave enough, take a walk alongside crocodiles!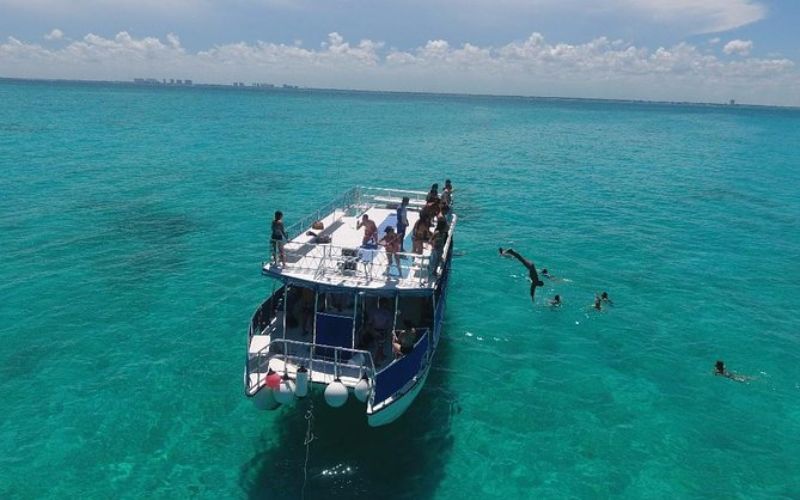 7. Sail to Isla Mujeres
Isla Mujeres is one of the most popular islands off the coast of Cancun – and it's easy to see why.
It's home to miles of pristine beaches and gorgeous turquoise waters.
Board this catamaran cruise and once you arrive on the island, you'll have free time to snorkel at one of the most beautiful beaches in the world, Playa Norte.
Swim like a fish and paddle out into the ocean to cool off from the hot Mexican sun.
Buffet lunch and unlimited booze are included!
8. Play a Round of Golf
Cancun is a city that loves to golf and you will find several courses in the area; Playa Mujeres Golf Club is one of the most popular ones.
The 18-hole course lies within an environment that features tropical vegetation, palm trees and carefully placed bunkers that challenge players to play their best game.
The golf course is perfect for players of all levels and features a snack bar, boutique for purchasing gear, and professional rentals.
Not only will you be able to enjoy the sport of golf, but also the beauty of nature with its spectacular views.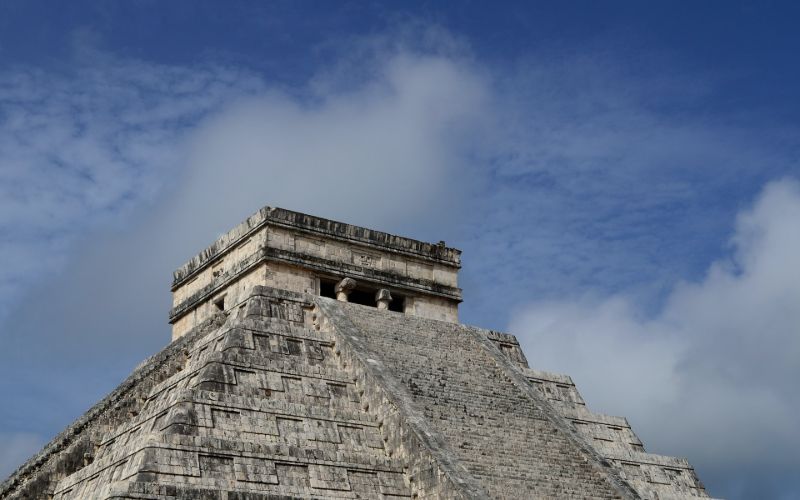 9. Visit the Mayan Ruins at Chichen Itza
Another great day trip from Cancun is to visit the Mayan ruins at Chichen Itza.
This is one of the most visited ruins in the world and it is located just west of Cancun.
You can spend a day wandering through the ruins and admiring the pyramid, and the area is full of beautiful scenery as well.
It takes about three hours to get there and you can take a guided tour or wander on your own.
You will be amazed by the architecture and history of the Mayan people.
10. Outdoor Jungle Adventure
Looking for an adrenaline-pumping outdoor adventure in Cancun?
This thrilling tour will take you on a journey through the heart of the Mayan jungle, complete with a zipline circuit, ATV ride, and horseback trek through the forest.
And to top it all off, go for a refreshing dip in a stunning Mayan cenote before fueling up with a delicious Mexican meal.
11. Get Some Exercise & Go Hiking
You can find hiking trails throughout the city and the entire Riviera Maya.
There are many nature reserves and national parks throughout the state of Quintana Roo that border Cancun.
From short strolls to longer walks with views of the ocean, there is something for everyone to enjoy.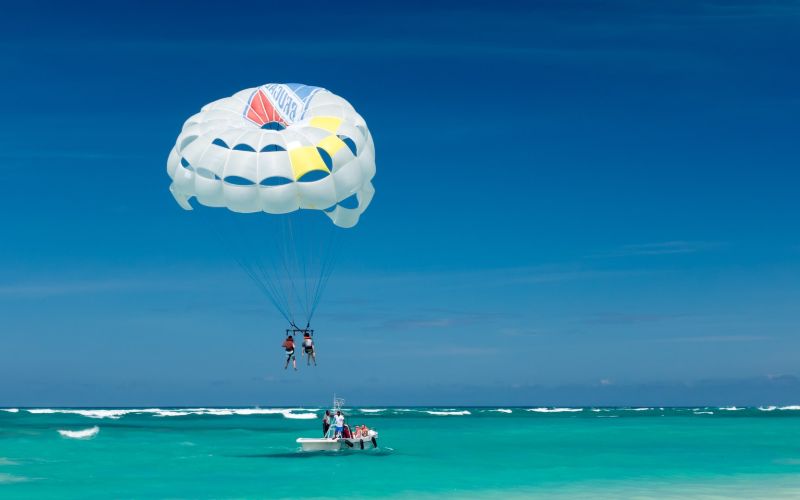 12. Go Parasailing
Take a parasailing trip up high and see the magnificent view of the entire Riviera Maya.
This fun activity will take you over the ocean, providing you with a breathtaking view of Cancun and its surrounding beaches.
Parasailing is recommended for all ages, so it's worth considering if you're interested in an adventure with your family or friends!
13. Sunrise or Sunset Paddleboarding
Experience the beauty of the sunrise or sunset from a paddleboard on the calm waters of the Bay of Cancun.
You'll be accompanied by a professional instructor who will teach you the basics of paddleboarding. No experience is needed!
14. Go Snorkeling
Join a tour to see the underwater beauty of Cancun's reefs and dive into the crystal clear waters with an expert instructor.
This snorkel tour even takes you to a shipwreck!
You'll have the chance to see many types of marine life, such as colorful fish and sea turtles.
You can also try your hand at snorkeling off-shore, but guided tours will bring you to the best spots!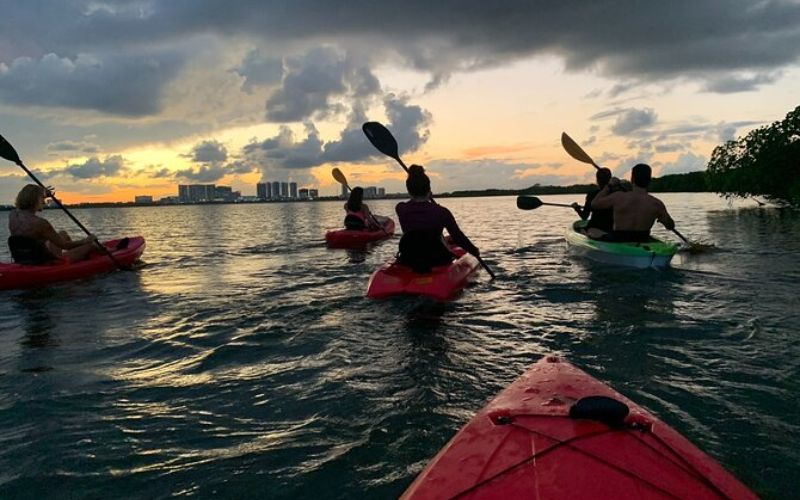 15. Go Kayaking
Cancun is surrounded by gorgeous mangroves, which are home to some of the most unique and interesting wildlife in Mexico.
Kayak through the Nichupté Lagoon and see the tranquil side of Cancun.
You'll be accompanied by an experienced instructor who will teach you some basic techniques.
16. Spend a Day at Xel-Ha
Xel-Ha is a natural marine park that offers the best of both worlds: a true paradise and an exciting waterpark experience.
It's a great place to enjoy a day away from the hustle and bustle of Cancun, especially if you're traveling with kids.
The park is filled with snorkeling, kayaking and swimming opportunities as well as thrilling water slides and ziplines for an exciting time.
You can also enjoy a variety of delicious food and drinks while at Xel-Ha.
17. Go Scuba Diving
Cancun is known for great scuba diving, and there are a number of different sites to explore.
Some of the most popular diving spots near Cancun are Punta Nuzic, Underwater Museum and National Reef Park.
These are all National Parks, which protect coral reefs, and are home to a variety of colorful and exotic fish and sea life.
If you want to explore the underwater landscapes of Cancun and don't know where to start, this scuba tour is a good option for certified divers.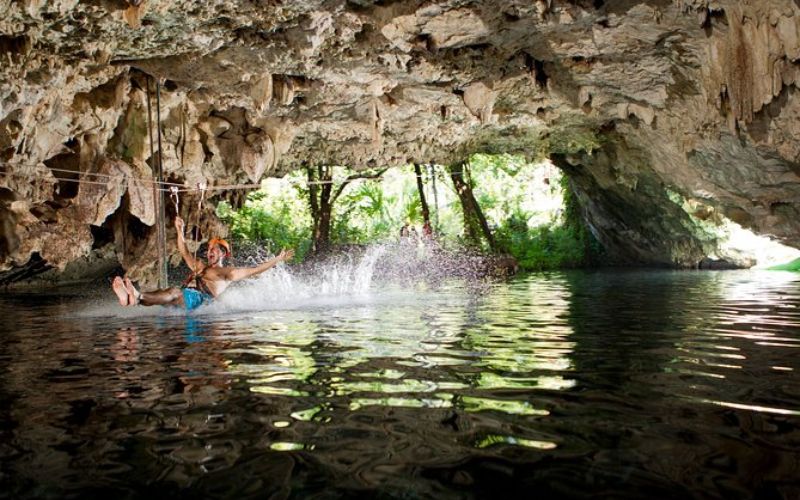 18. Go on a Cenote Adventure
Cenotes are natural sinkholes in Mexico that are formed when the limestone bedrock collapses and creates a hole in the ground.
They often have crystal-clear water and stalactite and stalagmite formations that make for great Instagram photos!
There are over 30,00 cenotes that extend deep into the earth around Cancun and they all offer unique experiences.
These natural formations are often inhabited by water-based animals and plants and are popular snorkeling and diving spots.
It's an incredible experience to swim in these caves and explore them with a great tour guide.
19. Wave Runner & ATV Tour
Go for an off-road adventure and drive yourself through the jungles of Cancun then head over to Maroma Beach.
With the adrenaline pumping in your veins, you'll take off on a wave runner (or speed boat if you choose) and go for a wild ride down the coast.
The adventure awaits you, so have fun with it!
20. Go Beach-Hopping in Cancun
Cancun has many great beaches, and most of them are located near the city center.
There is a great variety of beaches to choose from; the city's iconic coastline where the sand is incredibly soft, the water is crystal clear, and there are plenty of chairs and umbrellas for everyone.
Or how about mangrove-lined waterways that lead out into Laguna Nichupté National Park or bays with shallow waters close to shore where you can swim or snorkel among fishes and corals.
If you are looking for a more secluded beach experience, check out Isla Mujeres, a short boat ride from Cancun.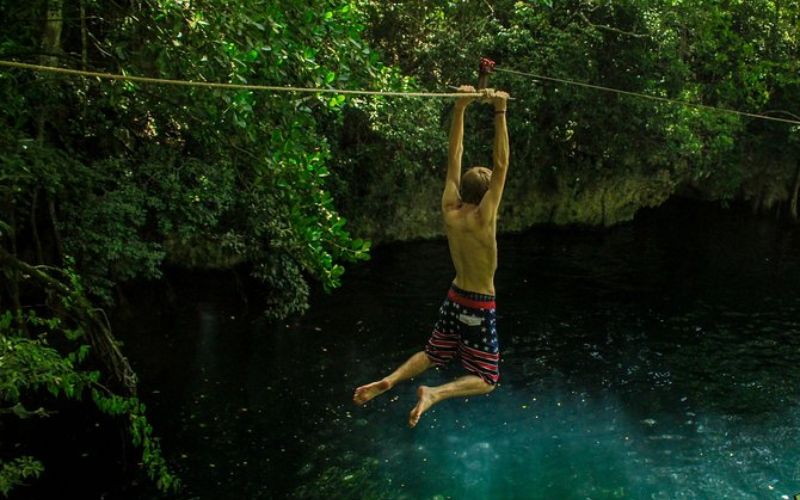 21. Go Jungle Ziplining
Cancun's jungle is full of adventure and for something a little different from your day-to-day activities, consider going ziplining.
The most popular zipline tour in Cancun is offered by Extreme Adventure Eco Park.
This outdoor adventure is about 4 hours long and includes riding an ATV off-road, swimming in a cenote, and soaring through a zipline course.
22. Go Biking in Cancun
If you are interested in a more active vacation or had a little too much to eat, go biking to burn off those extra calories!
The great thing about Cancun is that you do not have to be an experienced cyclist to enjoy cycling there.
If you want to rent a bike, check out local listings for bike rentals.
Alternatively, you can join a biking tour that'll take you cruising around the Hotel Zone and Cancun's beachfront.
23. Swim With Whale Sharks
If you want a little more excitement than just a slow-paced bike ride, consider taking a swim with whale sharks.
It's a unique opportunity to swim with these gentle giants in their natural environment.
Guaranteed to give you a dose of adrenaline and is perfect for people who are not afraid to get wet!
24. Walk Around the Historic Town of Tulum
The ancient city ruins of Tulum are an incredibly beautiful place to explore during the day.
Walk along the stunning coastline, exploring the sights and sounds whilst taking in the natural surroundings.
These Mayan ruins are among some of the best-preserved in all of Mexico.
It's easy to spend hours exploring the historic site, but there are also plenty of things to do around town too!
---
Final Thoughts
---
Cancun may seem like an unsurprising destination for a vacation, and it is actually one of the best places to explore if you are looking for a variety of outdoor activities.
It offers beautiful beaches, bustling culture, and a variety of natural landscapes that are ripe for exploring.
We've covered a wide range of different things to do in Cancun outdoors and we hope that our recommendations have provided you with some inspiration!
Which activities you are planning to add to your bucket list?