On a list of the most beautiful places in the world, Cabo San Lucas would be right up there.
This charming seaside town in Baja California is popular for its dramatic desert landscape, world-class resorts, and incredible views of the Sea of Cortez.
But hidden beyond the glitz and glamor of this coastal resort city is a much more secluded and untouched part of the world.
If you're looking for a local adventure that will leave you feeling refreshed and inspired, these are the most amazing hikes in Cabo San Lucas that you will never forget.
1. Table Top Mountain
The Table Top Mountain hike is a gorgeous 360 degree view of Cabo San Lucas; from its desert landscape to the sea, you can see all around it.
The hike is relatively easy with amazing views at every turn but do wear proper shoes for those little elevation gains (we promise they're minimal!).
This is also a great hike for families, as there's plenty of space to spread out and explore.
2. Circuit Cerro de las Antenas y Las Viboras
The name Cerro de las Antenas (Hill of the Antennas) might not sound like the most inspiring starting point for a hike, but the views from the top are absolutely incredible.
This is one of the best desert hikes in Cabo San Lucas for its birds-eye views of the city.
The hike up Cerro de las Antenas is a 4.3-mile steep climb, but the reward at the top is a panoramic 360-degree view of the Bay of Cabo San Lucas, a great place to get your first taste of the area's natural charms.
It takes about 2.5 hours to complete the loop; it may be difficult, but it'll be worth it when you're at the top.
Make sure to stay well hydrated as there isn't much relief from the sun. Also, watch out for rattlesnakes!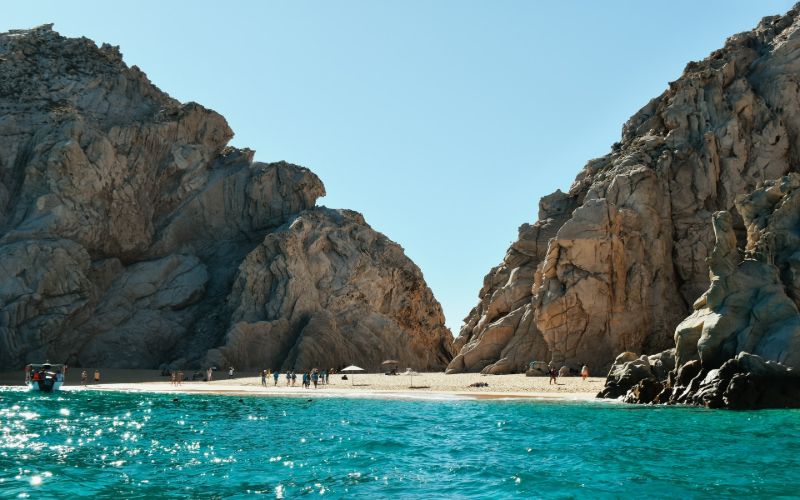 3. Divorce Beach & Lovers Beach
This is the best hike in Cabo for daytrippers and those looking for a short, accessible hike.
A short walk from the marina, this stunning stretch of sand is lined with natural arches and other eye-catching rocky formations.
You can easily get to this iconic landmark by taking a water taxi, but that'll take all the fun out of it!
The hike to the beach starts at one end of Grand Solmar Resort; climb over the rock section to get to your first stop, Divorce Beach.
Breathe in the sea breeze and admire the view. A toe dip in the waters is fine but don't go swimming here; it's too dangerous!
From here, it's a relatively easy walk to Lovers Beach but watch your footing as you meander through the rocky section.
The reward is breathtaking views of the Sea of Cortez and one of the best swimmable beaches in town.
If you're visiting Cabo for the first time, this is a great way to get a taste of what the outdoors has to offer.
Tip: Make sure you wear proper hiking shoes, a bit of climbing/scrambling is involved.
4. Cascada Sol de Mayo
Hikes in Los Cabos are some of the most beautiful and the Sol de Mayo Waterfall is no exception!
A short distance from the town of Santiago, this 35-foot waterfall spills into a secluded lagoon with views that will take your breath away.
Pack food and water for a nice picnic because it's an all-day project if you want those picturesque shots too 🙂
Local guides are available for hire as well so you can have fun without any worries while experiencing nature at its finest.
5. Cabo Marina desde Solmar
As you walk along this easy marina side trail to Playa El Farito, it's hard not to be amazed by all that surrounds you.
Beginning just outside the Solmar Resort, the views are nothing short of magnificent as your eyes take in everything.
Watch ships dock right up to where the waves lap against the sandy shores and the seemingly endless blue waters of the Sea of Cortez.
It's a great place to go for an easy stroll with your family or just a beautiful way to spend an afternoon taking in the views, feeling the breeze and enjoying nature's beauty.
6. Cerro de la Z
The Cerro de la Z is a 1.3 mile out and back trail that takes you up to the top of this mountain for panoramic views of Cabo.
It's considered moderate but can be challenging depending on how strong your fitness level might currently be – it typically only requires 48 minutes for an average person!
Hike up into nature with Fido in hand (off-leash allowed in some areas).
This trail is good for all seasons but doesn't offer much in terms of shade so remember to bring plenty of water!
7. Estero San José
Estero San José is a protected wildlife sanctuary located in San José del Cabo.
It can be easily accessed from the Hotel Zone and provides an ideal shady stroll for visitors looking to enjoy some peace with their own two feet.
The peaceful estuary is a favorite spot for birdwatchers – some common species found here include red-tailed hawks and white herons.
8. Playa El Medano
This easy trail is a great way to explore the beautiful beach and coastline of Cabo San Lucas.
It's an effortless route and will take 25 min on average to complete the trail.
Perfect for runners or shoppers who want something short but sweet with great views along their strolls.
9. Cerro de las Torres
You can't beat the view from the top of Cerro Colorado; the view of the bay is one that you will never forget.
Whether you're an experienced hiker or just getting started with your first hike, this is one destination that will leave your breath taken by its beauty.
The route starts at Via La Paloma street and has minimal elevation change so it's perfect for bikers as well.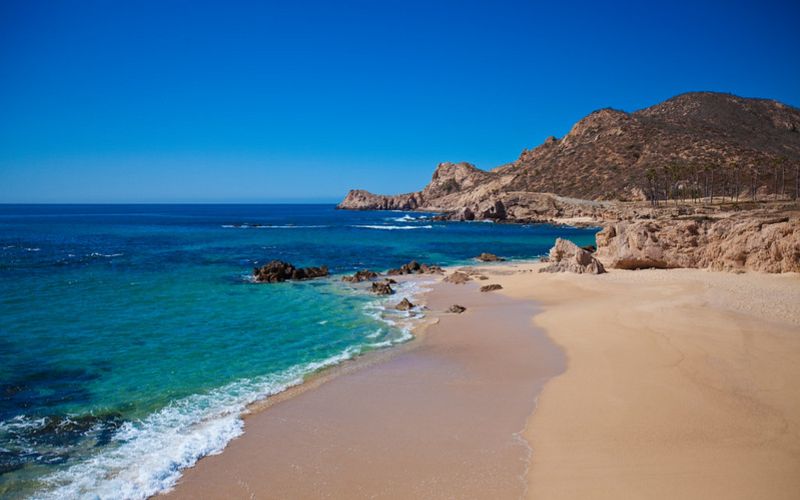 10. Mt. Solmar
If you're looking for a challenging hike that will give your legs a workout, then Mt. Solmar might just be your thing.
This trail is only for the toughest of hardcore hikers, but it's also one of the best hikes in Cabo San Lucas.
The trail to get to the viewpoint is a bit steep, but the payoff at the top is totally worth it.
Atop the peak, you'll find panormaic views of the Sea of Cortez and Los Cabos.
Note that the trailhead can be difficult to find since it's unmarked. Look out for a dog kennel – entrance is directly in front of it.
11. Circuito Los Cabos
Circuito Los Cabos is a moderate desert trail that loops around Cerro de Enmedio and Colorado.
A hidden gem just waiting for your arrival, this 9.2-mile trail is worth every step and will leave you with a feeling of accomplishment and satisfaction.
The hike is pretty steep at times with rocky and uneven paths, but you'll be rewarded with gorgeous views of the Cabo San Lucas Bay.
Taking on average 4.5 hours to complete, it's one of the best day hikes in Cabo San Lucas and easily accessible.
12. Cerro de las Antenas to Sendero Cappuccino
Cerro de las Antenas to Sendero Cappuccino is a moderate difficulty hike where you'll be able to experience the natural beauty of Cabo San Lucas.
The 6 km loop has a variety of desert terrain and takes about 2.5 hours to complete.
The trail offers trail runners breathtaking views of Cabo, not to mention plenty of photo opportunities!
---
Final Thoughts
---
While Cabo is a popular tourist destination, the city still maintains a relaxed and authentic feel that makes it a great place to visit.
Filled with breathtaking desert landscapes and wonderful hiking opportunities, the top trails mentioned in this guide are some of the best.
Whether you're looking for a challenging hike with a rewarding view or a relaxing day hike with stunning vistas, you'll find what you're looking for in Cabo.