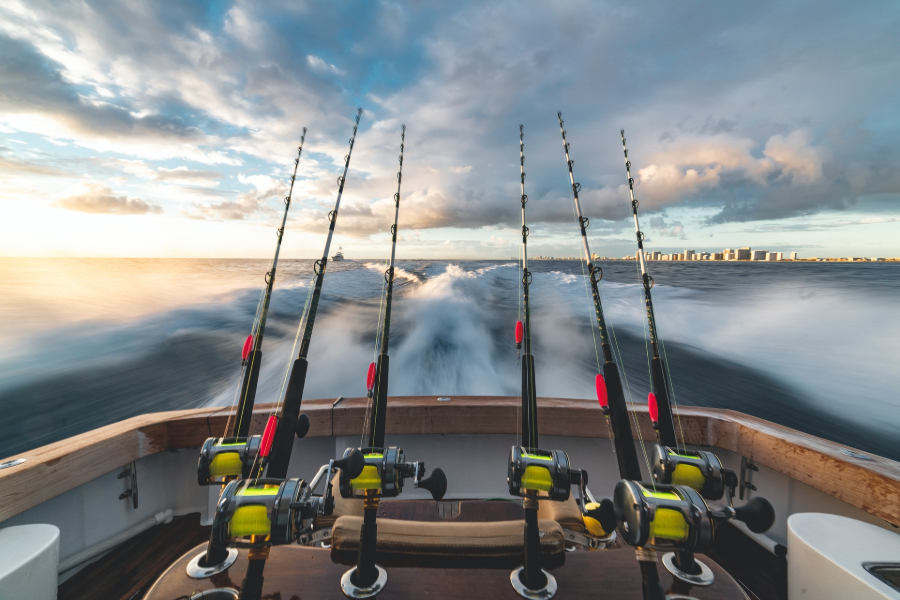 Whether you're in the mood to catch dinner for the night or catch a trophy marlin, Cabo San Lucas is the place to go.
Experienced captains will take you on thrilling expeditions to some of the best fishing spots around, while providing plenty of fun and excitement along the way.
Check out some of the top-rated fishing charters in Cabo San Lucas to make the most of your time out in the open sea.
1. Pacifictime Sports Fishing
Looking to get a little closer to nature? Cast your line for a Cabo San Lucas fishing experience with locals!
Skip the hassle of renting gear or trying to arrange a fishing trip on your own and book a fishing charter with Pacifictime.
Rise early for an outdoor adventure and try to land one of Cabo's seasonal catches – marlin, yellowtail snapper, and more.
Expert skippers will help you reel in the big ones; you're almost guaranteed to catch something, so be prepared to show off your skills with a rod and reel!
2. Bella Terra Los Cabos
The Bella Terra Los Cabos fishing charter is an all-day private fishing experience that's 8 hours long.
That's a whole day of fishing in the Marlin capital of the world and also perhaps tuna or roosterfish!
You'll have to bring your own food and drinks, but professional fishing gear, fighting chair, and fish finder will be provided.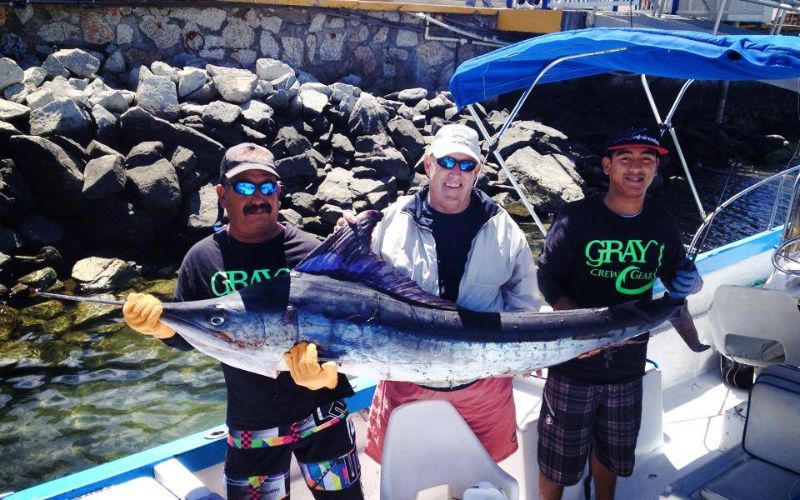 3. Sushi Time Sport Fishing
Fishing in Cabo San Lucas is an amazing experience that everyone should try at least once in their lifetime.
And what better way to do it than on a private charter with an experienced captain who knows all the best spots?
On this 5-hour trip with Captain Carlos, you'll be able to relax and enjoy the scenery as you troll for a variety of fish, including marlin, dorado, wahoo, and roosterfish.
The waters around Cabo are teeming with life, so you're guaranteed to have a successful day out on the boat.
But even if you don't catch anything, you'll still have a great time thanks to the incredible views and the opportunity to spend some quality time with your friends.
Sushi Time will provide you with 7 pieces of live bait, equipment, and lures.
The crew will also be willing to clean and filet your catch(es) for an extra charge if you need the service.
4. Black Marlin Sportfishing
Looking for a unique sportfishing charter in Cabos San Lucas?
Captain Manuel Jimenez and his 1960 restored ship are waiting to take you on the fishing trip of a lifetime!
With two fighting chairs, a fishfinder, and an ice chest for your catches (or drinks), you'll be able to relax and enjoy the sun under the canopy.
Whether you're looking to go inshore or offshore fishing, Captain Jimenez can take you to the best spots for trophy catches like Wahoo.
5. Best Cabo Adventures
Looking for an adrenaline-filled fishing adventure? Let the experienced captains from Best Cabo Adventures take you on a private full-day fishing trip!
You'll have the opportunity to reel in some of the area's prized fish, including tuna, dorado and wahoo.
This is a perfect activity for groups of up to 5 people – so bring your friends and family along for an unforgettable experience.
Plus, the tour provides everything you need for a successful day on the water, including box lunch, drinks and bait.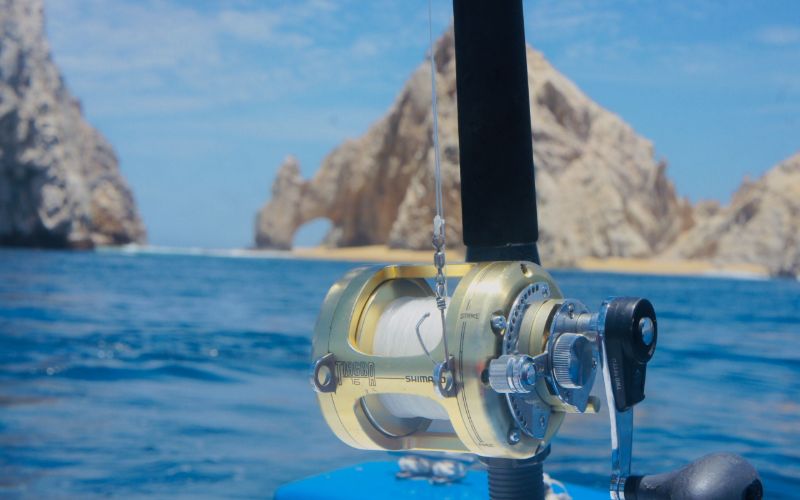 6. Bluesea Sportfishing
If you want an immersive experience with a fishing veteran of 24 years who will do everything to help you catch your next dinner, Bluesea Sportfishing is for you.
The Captain offers 5 and 8 hour outings where he'll show you how to catch Marlin, Tuna, Groupers, Mahi Mahi, and more.
You'll have a fighting chair, outriggers, fishfinder, and live bait as well, but you'll need to bring food and water.
You can go to the inshore waters, the reefs, or the offshore sea, the choice is yours!
7. Cabo Mahi Mahi
With Cabo Mahi Mahi, you'll be taken out on a 23' center console boat to almost any location you dare to go.
Whether you want to go inshore, offshore, or anywhere in between, we've got they've covered.
And we're not just talking about ordinary fish – we're talking about Bonito, Mackerel, and Wahoo.
Just don't forget to bring your lunch and drinks – Cabo Mahi Mahi will supply the fun, but you'll have to bring the food!
8. Cabo Paradise Tours
Taking groups up to four people, Cabo Paradise Tours is an open-water expedition you don't want to miss.
You'll spend about 5 hours catching deep-sea fish such as blue and striped marlins, sailfish, dorado, and much more.
Paradise will provide all of the expert equipment you'll need and live bait as well as the means to buy a fishing license for $17 on-site.
Cleaning services for catches range from $10 – $25.
9. Cabo Sportfishing Crew
Cabo Sportfishing crew will take you on the most incredible fishing experience ever!
Board the 29' Californian or the 31' Rival saltwater fishing vessels.
Taking groups of up to four people, this all-inclusive fishing tour includes 5 to 8 hours of time out in the open waters (depending on which package you choose).
While you're out, you can try your luck for Marlin, Amberjack, and more.
You'll be given the equipment, bait, and lunch to make your catch – you just need to show up!
10. Kellyfish Cabo Sportfishing
The owners of Kellyfish want you to know they are the most fun sportfishing charter in Cabo, and aim to prove it.
Have a great time onboard the 26' Seaswirl Striper whether you're a novice or an avid fisher.
Fishing gear (reels, rods and tackle) and bottled water is included when you book their sportfishing charter.
However, you will need to pay for your own live bait ($35) and fishing license ($20).
At the end of the day, you'll be taken to a station where they will filet your catches for a small fee.
That's right, you get to keep what you catch!
The fish you can expect to catch are Marlin, Tuna, Roosterfish, Mahi Mahi, and much more.
11. Loveshack Cruises
Looking to add some excitement to your next group outing?
This fishing charter offered by Loveshack Cruises is just what the doctor ordered.
Perfect for groups of up to 14 people and comes complete with all the amenities you need for a successful day out on the water.
The 68 ft yacht is equipped with Shimano Tiagra 2-speed reels, tuna tubes, and a bait tank – everything you need to reel in the big one!
Professional staff will be on hand to provide you with alcoholic drinks, a Mexican buffet, and live bait.
That's 5 hours of good times as you reel in an equally impressive dinner.