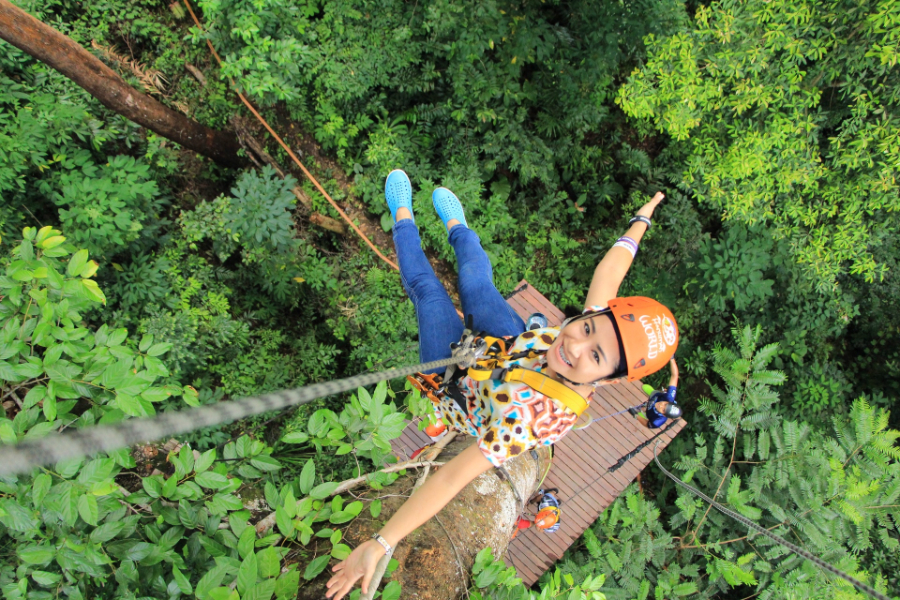 If you're looking for an adrenaline-filled adventure, then you've come to the right place.
While the activity isn't unique to Hawaii, ziplining is a more common sight in the Aloha State.
These tours are perfect for everyone – from the thrill-seekers to people who just want to see the island from a different perspective.
Experience this adrenaline-pumping activity and conquer your fear of heights with 5 of the best ziplining tours in Oahu.
Side-by-Side Zipline on Oahu's North Shore
Do you have a love for adventure? Do you find yourself itching for a new and thrilling experience?
If so, then strap up and take a ride on the longest zipline in Oahu!
Ride an ATV to the top of the mountain for panoramic views of the island that stretches out before your eyes, before descending back down into the forest.
Dangle (safely!) up in the air on ziplines that range from 500 to 2,400 feet; you'll be yelling out in joy as you zip past the sights and sounds of Oahu's North Shore.
Your adventure through the lush forest doesn't end there though – you'll also get to rappel and walk over scenic sky bridges and boardwalks along the way!
About This Tour:
Price Per Person: $192
Duration: 3 hours
Operator: Climb Works – Keana Farms
Includes: 8-line side-by-side circuit, water, professional guide
Jurassic Valley Zipline at Kualoa Ranch
Say hello to your new favorite summer activity! At Kualoa Ranch, you'll get a taste of the high life – literally.
Take your adventure to the next level by zipping through the treetop canopy on 14 tandem cables and two suspension bridges.
Journey through the diverse ecosystems of the rainforest at the ranch, where you'll learn about native plants and their ancient medicinal uses as your guide points them out along the way.
Witness firsthand the cliffs, beaches and thick rainforest that have made Kualoa Ranch the perfect backdrop for many blockbuster films.
See if you can pick out the filming spots for Pearl Harbor and Jurassic Park!
About This Tour:
Price Per Person: $174
Duration: 3 hours
Operator: Kualoa Ranch
Includes: ziplining tour with professional guide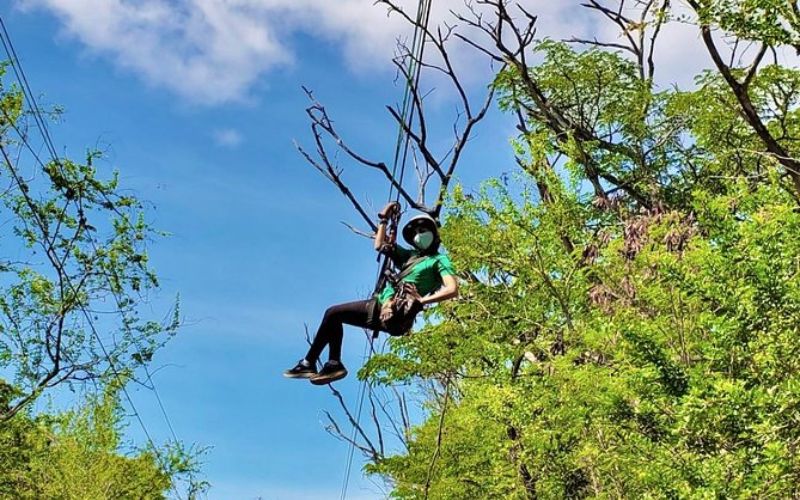 6-Line Oahu Zipline Tour
Feeling bored in Oahu is hardly even a possibility, but elevate the experience and check out this zipline tour.
Expert guides will take you on an exhilarating journey through the beautiful Coral Crater Adventure Park, showcasing six ziplines that range from 300 to 600 feet.
With a morning and afternoon departure window that allows for convenient scheduling, you can start your day off bright and early, then have plenty of time to check out the rest of Oahu's spectacular sights.
About This Tour:
Price Per Person: $199
Duration: 2 hours
Operator: Coral Crater
Includes: admission to 6 ziplines at Coral Crater Adventure Park
Zipline & Adventure Park
Do you have what it takes to tame the jungle? Test your agility and strength as you tackle the ziplines and jungle gym at Coral Crater Adventure Park.
Explore Oahu's stunning scenery on 6 ziplines and experience the thrill of aerial adventure like you've never before.
When you're finished, take a break and explore the Adventure Tower.
With ropes and wobbly bridges suspended in the air, you'll have to use all your wits to make it to the end.
Be the daredevil of your group and try out this zipline and obstacle course that is sure to get your heart racing.
About This Tour:
Price Per Person: $287
Duration: 4 hours
Operator: Coral Crater
Includes: admission to Coral Crater Adventure Park (6 ziplines and jungle gym)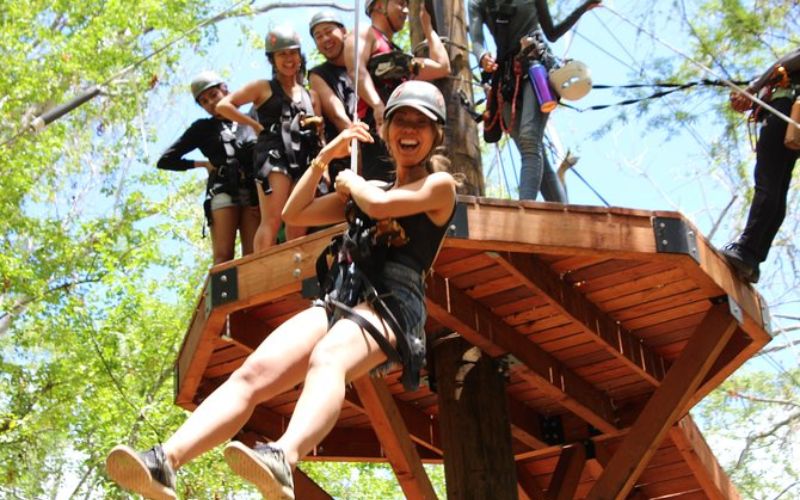 3-Line Oahu Zipline
New to ziplining and just want a small taste of the experience?
Jump on board this zipline tour for a sampler of what ziplining is all about.
With just three lines ranging from 300 to 900 feet in length, you'll get an exciting, adrenaline-pumping experience that's perfect for newbies.
No experience is necessary, so you can jump right in and have fun!
Everyone from families with kids to groups is welcome on this tour, all you need is to be daring.
Conquer your fears and push your boundaries – you'll never look at Oahu the same way again!
About This Tour:
Price Per Person: $110
Duration: 1 hour
Operator: Coral Crater
Includes: 3-line zipline circuit, free locker storage
---
Ziplining in Oahu FAQ
---
Is Ziplining in Oahu Worth It?
Ziplining in Oahu is one of the most exhilarating experiences you will ever have and is totally worth it!
Not only does it offer a unique view of the island, but it is also an exciting way to get a workout.
There are a variety of ziplines available, and each course has its own unique features.
Refer to the zipline guide above to help you decide which course is right for you.
Ziplining in Oahu is a must-do activity, so don't miss out on the thrill!
How Much Does it Cost to Zipline in Oahu?
Ziplining in Oahu generally costs between $110 to $200 per person.
The rates for ziplining vary depending on the number of ziplines and if any other activities are included in the package (ie. access to an adventure park with jungle gym).
Once you are ready to zipline, it is important to book your reservation as early as possible as the availability tends to fill up quickly!
When's the Best Time to Zipline in Oahu?
The best time to zipline in Oahu is generally mid-morning to mid-afternoon. The weather tends to be drier and more consistent during these times of day.
Plus, it leaves you the rest of the day to do other activities and explore the island!
Wherever you decide to zipline, make sure that you are prepared for the weather.
Make sure to bring a light jacket, sunscreen, and water!
How Long are Zipline Tours?
Ziplining tours usually lasts between 2-3 hours. The length of time spent ziplining depends on the number of ziplines the course includes.
For example, a zipline course that includes 8 lines will take about 3 hours. A quick course that only includes 3 ziplines will take about 1 hour.
---
Final Thoughts
---
Ziplining in Oahu is a great way to get out and explore this island, while also having fun and getting a workout!
It's definitely worth the price and you can't beat the natural beauty of the island.
From the rainforest to the coastline, Oahu's ziplining tours offer breathtaking views and an exhilarating experience.
Whether you're looking for a solo adventure or something to do with the family, there's a tour that's perfect for you.
We hope you have an amazing time on the island!