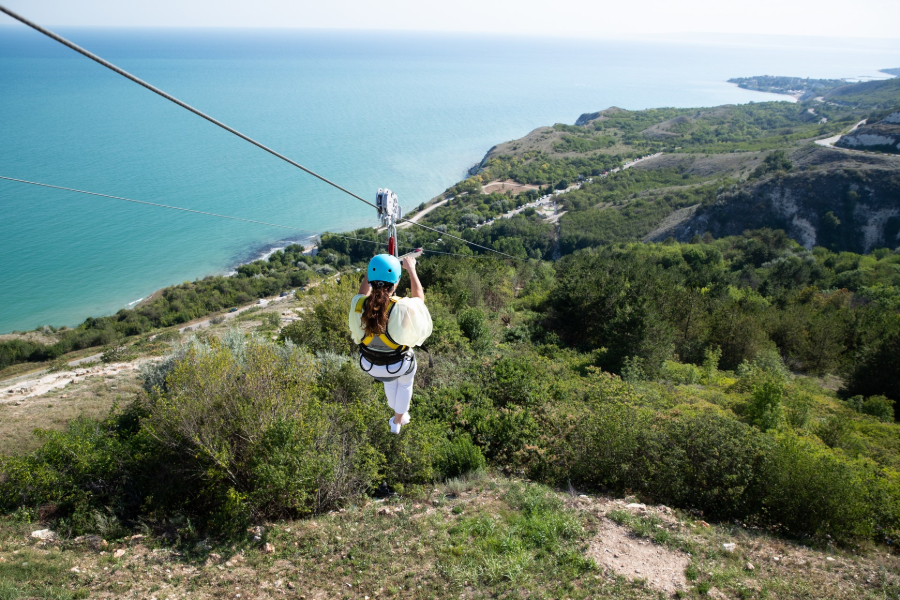 Maui is one of the most beautiful places in the world and is teeming with outdoor adventure activities, like ziplining!
It's not just about seeing the island from a new angle, ziplining is a truly unique activity that offers a great way to explore the island.
This action-packed activity will take you through the lush greenery of the island as you fly through the treetops like Tarzan.
If you're ready for a little heart-pounding thrill and a whole lot of awe-inspiring views, check out 7 of the best ziplines in Maui.
8-Line Maui Jungle Zipline
Soar through the lush jungle canopy with this zipline tour and take in the beautiful scenery all around you.
With 8 ziplines, 4 tree platforms, and an 85-foot long tree suspension bridge, this is an activity that will have you swinging and jumping for hours on end.
And if you're feeling brave, take on the Quick Jump Free Fall Ride – it's optional but definitely worth it!
Water and snacks are provided halfway through the tour to keep you going, and after the tour you'll have free time to roam around their tropical park.
About This Tour:
Price Per Person: $139
Duration: 2 hours
Operator: Jungle Zipline Maui
Includes: 8-line circuit, water & snacks
7-Line North Shore Zipline Tour
Thrill-seekers rejoice! Experience the ultimate adrenaline rush by zipping through the treetops of Maui's World War ll base on this zipline tour.
Fly over the treetops and explore the Eucalyptus forest below at speeds of up to 40 miles per hour.
Take in jaw-dropping views of the island's rugged North Shore and the Pacific Ocean.
And if you think that is it, test your bravery by completing a variety of obstacle challenges, including crossing a high-altitude suspension bridge.
Don't forget to drop by Camp Maui, a museum full of WWII history; definitely something you don't want to miss.
Strap in and prepare to have some fun!
About This Tour:
Price Per Person: $153
Duration: 2 hours
Operator: Northshore Zipline Co.
Includes: 7-line circuit, bottled water, museum at Camp Maui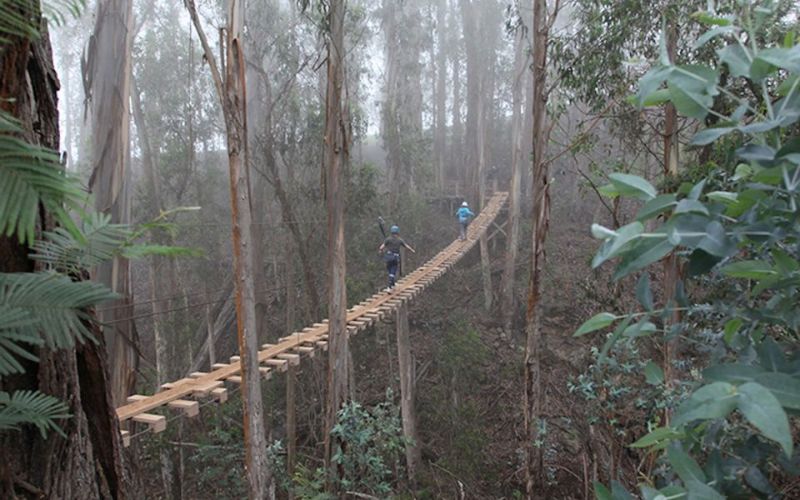 Haleakala 5-Line Zipline
When the urge to explore takes over, there's only one answer: a day out in Maui's upcountry with a zipline tour.
This exhilarating experience includes five thrilling zip-lines that winds its way through the slopes of Haleakala Volcano and a trek over an Indian Jones-style swinging bridge.
By booking this tour, 1% of the revenue goes to keeping the environment clean and contributing to the preservation of Maui's natural beauty.
So, whether you're looking to take in the sights or help contribute to a better future, zip through the trees with this Haleakala zipline tour!
About This Tour:
Price Per Person: $135
Duration: 1.5 hours
Operator: Skyline Eco-Adventures
Includes: access and guided tour of Haleakala National Park, water
5-Line Jungle Zipline in Maui
Say hello to your new favorite way to explore the island!
Take a break from all the walking and sightseeing and go flying through the jungle instead on this zipline tour.
Soar high above the forest canopy and deep into the tropical forest, giving you a bird's-eye view of your surroundings that you can't get from any other vantage point.
The course is designed to accommodate both beginner and experienced zipliners, so it's a family-friendly activity.
The location is just off Hana Highway, a worthy stop to add to your itinerary!
About This Tour:
Price Per Person: $113
Duration: 1.5 hours
Operator: Jungle Zipline Maui
Includes: 5-line circuit, bottled water & snacks
Adventure Park Maui
Adventure Park Maui features a number of obstacle courses and ziplines that will have you leaping, crawling and swinging like you've never done before.
Soar through the air on thrilling ziplines, or test your agility on challenging obstacle courses.
With over 45 different rope courses, it's the perfect way to engage your senses and have some fun with your friends and family.
With Maui's tropical landscape as your backdrop, this park is sure to provide hours of excitement.
About This Tour:
Price Per Person: $99
Duration: 1.5 hours
Operator: Adventure Park Maui
Includes: admission to a 45-course adventure park with ziplines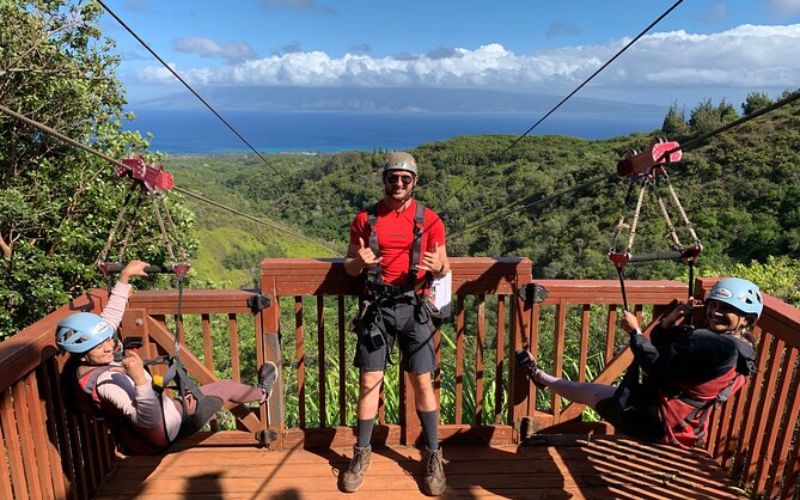 6 Dual-Zipline Adventure
Craving a day filled with nothing but fun and adventure?
Expand your horizons and take on this thrilling 6-line tandem ziplining tour in Maui.
Encounter jungle heights, soaring panoramas and breathtaking coastal views as you zip through the jungle.
You'll also be riding on an ATV as you venture deep into the rainforest, and crossing Hawaii's longest suspension bridge – all while experiencing some of the island's most picturesque views.
With this tour, you'll have plenty of thrills and excitement to satisfy your appetite for adventure!
About This Tour:
Price Per Person: $215
Duration: 3.5 hours
Operator: Kapalua Ziplines
Includes: half-day tour with dual 6-line circuit, ATV ride
Ka'anapali 8-Line Zipline
Fly through the trees, admire the stunning landscape, and support the environment while you're at it!
This eco-zipline adventure in Ka'anapali will have you soaring at breakneck speeds, taking in views of the valleys below and the islands in the distance.
Witness how lush jungles give way to crystal-clear waters as you're high above the canopies.
You'll also learn about Hawaii's rich history during your flight, making this an educational and fun experience that is sure to impress.
The thrilling final line finishes off the adventure with a grand finale that will have you screaming in excitement.
Don't miss out on this amazing experience!
About This Tour:
Price Per Person: $177
Duration: 3.5 hours
Operator: Skyline Eco-Adventures
Includes: 8-line circuit with live tour guide, water
---
Guide to Ziplining in Maui
---
Is Ziplining in Maui Worth It?
Ziplining in Maui is definitely worth it! Not only is it a thrilling experience, but it is also an excellent way to get a little exercise while visiting the island.
The courses are usually rated according to their difficulty, so you can choose the one that is most appropriate for your level of experience.
Make sure to drink plenty of water and eat a good meal before you go.
You will definitely be dehydrated and hungry after ziplining, so it is important to replenish yourself.
And don't forget to wear sunscreen and insect repellent!
If you are looking for a unique activity to do while in Maui, then ziplining is definitely worth considering.
What Should You Bring With You?
When you go ziplining in Maui, it is important to be prepared for a fun and exhilarating experience.
Make sure to pack plenty of water, as the zipline tours can be quite strenuous. Bring along some snacks too, as you might get hungry along the way.
And last but not least, make sure to bring sunscreen; the sun can be quite brutal in Hawaii and you want to protect yourself from the harmful rays!
How Much Does Ziplining in Maui Cost?
The average cost for a zipline tour is $140 per person. This includes the equipment, professional guide, and bottled water.
Some tours also include extra perks, like access to nature parks and lunch or snacks. Naturally, you can expend these to cost a little bit more than the basic packages.
What Should You Not Wear When Ziplining?
There are a few things you should avoid wearing when ziplining. These include:
Jewelry – no dangling necklaces, bracelets or rings. This is for your safety and the safety of those around you.
Loose-Fitting Clothes – For the same reason, no loose-fitting clothing is not recommended. Loose clothing can get caught in your harness and potentially cause injury to yourself or others while ascending or descending the line at high speeds.
Backpacks – They can get caught in the lines and, again, cause injury to yourself or others.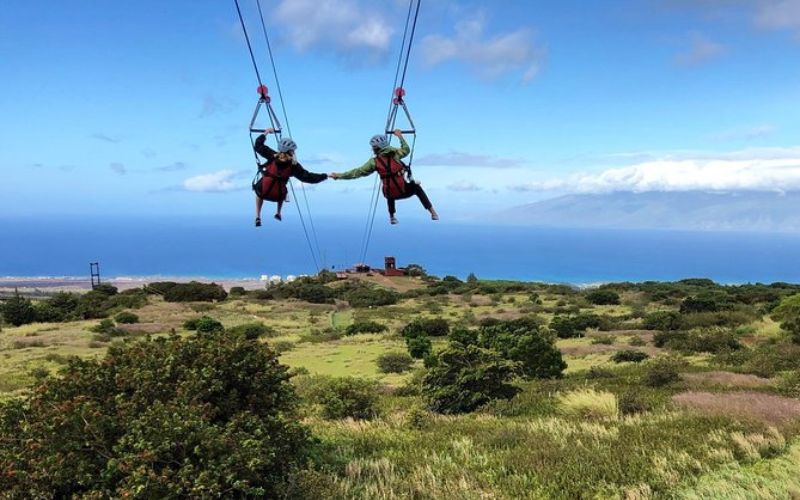 What is the Weight Limit for Ziplining?
This will vary from company to company but most have a weight limit of 250 pounds per person.
You should also be in fairly good physical shape and have no serious medical conditions (e.g., heart problems).
What Kind of Shoes Do You Wear Ziplining?
tAlways wear closed-toe shoes, preferably sneakers to protect your feet and toes. Do not wear sandals, flip-flops or heels.
What if I Am Afraid of Heights?
Ziplining is a great activity for conquering your fear of heights!
You are securely harnessed to the line and can't fall off; ziplining is one of the safest ways to experience nature.
Your guides will be with you every step of the way, assuring your safety.
---
Final Thoughts
---
There are many things to do in Maui and going on a zipline tour definitely tops the list.
Not only is it thrill-packed, but it's also environmentally friendly and very safe.
The views are breathtaking, the tour guides are knowledgeable, and the experience is one of a kind.
So, if you're in the mood for some high-intensity adventure and want to explore Maui's unique landscape, be sure to add ziplining to your bucket list!